Tarot Horoscope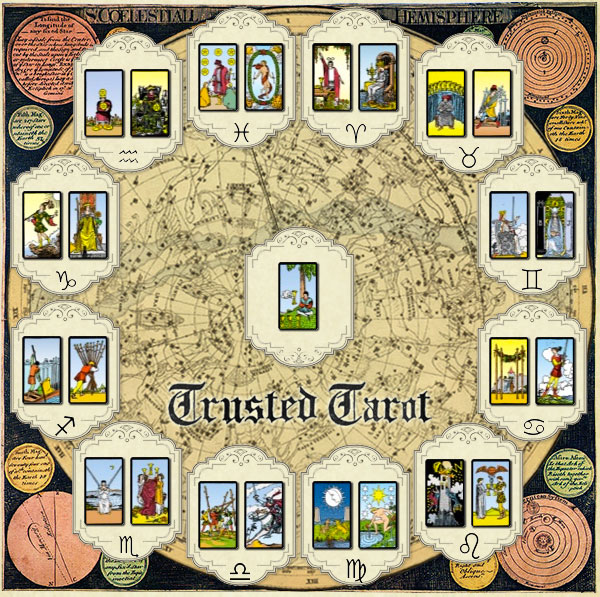 We are guided by the Four of Cups this week, which signifies boredom, disappointment, dissatisfaction, and a re-evaluation. It marks an important time to break free from downward spirals, and work towards achieving new goals and new paths to reach them.
If you would like a more traditional Astrological horoscope, I recommend you visit Horoscope Dates. They update their site with daily horoscopes form around the web, and have detailed information about each Zodiac sign.
Aries
The Magician and the Queen of Cups shows us that a talented, skillful, and creative woman will influence you this week. Seek her out as you begin your journey of self improvement.
Taurus
The Nine of Cups and Seven of Swords tells us that something in your life isn't complete. You need to find out what it is, and work towards it, because if you don't you will remain in your downward spiral (or sink into one).
Gemini
Two female influences are shown by the Queen of Swords and High Priestess. It could be either two women, or one that is very independent, understanding, and insightful. Find her (or them) - it will help you achieve your goals.
Cancer
The Four of Wands and Page of Swords signifies harmony and new beginnings from vigilance and challenges. With the Four of Cups - it shows us that this week is the time to overcome problems in your life. You will see great rewards from the effort you put in this week.
Leo
Destruction, loss, and dramatic change relating to friendship and love. The combination of the Tower and Two of Cups, with the Four of cups, tells me that there could be a toxic person in your life. Removing them from your life may not be the answer, but if things stay as they are it will lead to your dissatisfaction. Think about toxic relationship in your life, and try to solve it.
Virgo
The Moon and the Star, two major Arcana cards, tells us to be careful of calm and serenity. Things in your life may not be as they seem... take a deep look - it's an important week for change.
Libra
The Five of Wands and Knight of Swords tells us about conflicts, loss, and destruction. There is aggression in your life that is causing you troubles - and you need to solve it this week.
Scorpio
The two of Swords and Three of Cups tells us that there is celebration from conflict resolution and important decisions. Step back, thinking about your life and the problems in it, and make a decision to change this week. It will give you a reason to celebrate.
Sagittarius
The Six of Swords and Ten of Wands is a journey of burdens and intense pressure. You are working very hard, and it causing you to be unhappy. Find a stress release, or you will soon become very unhappy.
Capricorn
The Fool and Queen of Wands means important, career oriented decisions. If you are unemployed or looking for work right now, keep at it. New beginnings are in the works, so do not stay stagnant.
Aquarius
Two Pentacles, the King and four. Certain wealth through tenacity and hard work. It is an important week to get things done.
Pisces
The Six of Pentacles and the Word tell us there will be satisfaction from donation and distribution of wealth. If you are feeling unhappy - generosity this week will lift your sprits.
If you want more Tarot horoscopes - I post a new horoscope to the Trusted Tarot Facebook page each week. Like Trusted Tarot so you don't miss out! I promise I will not spam you or your friends.