Tarot Horoscope
For the week of Sunday, April 13th to Saturday, April 19th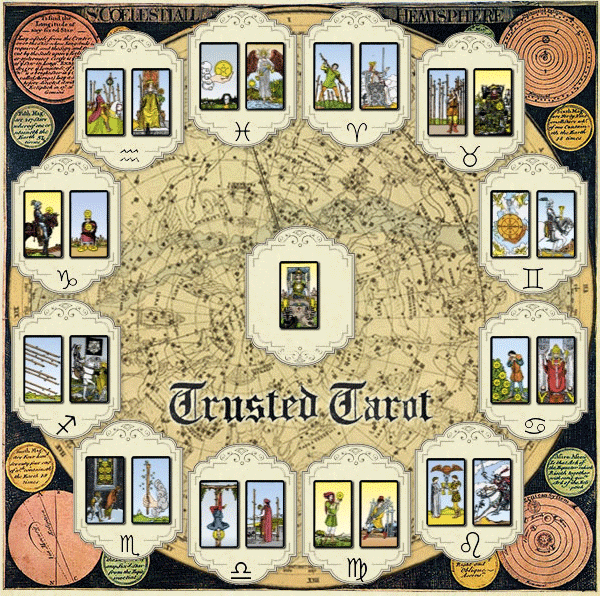 This week we are guided by the Chariot, which will lead you on a successful journey. You have some work ahead of you - perhaps some conflict - but the Chariot is a powerful card and your hard work will lead to a good outcome... but only if you do not give up! Work hard this week, as the early steps in your journey are crucial to get right!
Aries
Seven of Wands & Queen of Swords
Together, the Seven of Wands and Queen of Swords mean the long-term success and perseverance of a perceptive, mature woman. But this success comes after overcoming opposing forces!
If this combination represents you - things are looking good! Be strong, and you will persevere. Otherwise, a person in your life needs your help to achieve their goals: be on the lookout for a woman in need, as she needs your strength.
Taurus
Nine of Wands & King of Pentacles
The combination of the Nine of Wands and King of Pentacles signals the protection and guarding of wealth. Security requires caution - and these two cards tell us to save money. If you want financial abundance, you need to save your money. Your future wealth depends on your ability to protect it - and not spend money recklessly.
Gemini
The Wheel of Fortune & Knight of Cups
What a wonderful pair: the Wheel of Fortune and Knight of Cups. The Wheel of fortune is about change and cycles of life - the Knight of cups is about new opportunities and their arrival. Together, they indicate a new exciting chapter in your life. Change is coming, and it's good. Keep your eyes open for exciting, new opportunities - as there is at least one within your grasp!
Cancer
Seven of Pentacles & The Hierophant (Pope)
The Seven of Pentacles tells us a story of hard work, long-term success, and perseverance. When combined with the the Hierophant / Pope - it signals the need for good advice to achieve you goals. Don't struggle on your own. Seek help and advice, as it will help you achieve your goals!
Leo
Two of Cups & Knight of Swords
The Two of Cups and Knight of Swords is not a good combination: it signals unexpected disruption, loss or arguments in a friendship or partnership. Choose your battles. A friendship or partnership is going to need work - and if you find yourself in an argument it might be best to give in. If you push too much, you could damage your relationship.
Virgo
Page of Pentacles & Seven of Swords
The Page of Pentacles is about working hard, being skilful, and studying - so with the Seven of Swords we are warned not to take on too much if we want to succeed. Work hard, but don't put too much on your plate. Focus your efforts on your most important tasks, and do not let yourself get distracted!
Libra
The Hanged Man and two of Wands tells us a sacrifice needs to be made, leading to a period of transition. Something is holding you back from your achievements. Take a look at what might be causing you anxiety in your life, and think about removing yourself from that situation. You need to find out what is stopping you from reaching your goals!
Scorpio
Five of Pentacles & Ace of Wands
This combination, the Five of Pentacles and Ace of Wands, tells us that worry and fear is preventing creativity or new beginnings. There are obstacles, but they are only in the mind. To move forward and get on with your life, you need to work on eliminating fear and worries. There are some things in your life you cannot control, and you need to learn to get over them.
Sagittarius
Together, the Eight of Wands and Death indicate that a journey is coming to an end. It could travelling, or an impulsive decision that led you astray. This change is needed. Everything comes to an end at some point - and someone in your life's journey soon will end. Don't fear this - as a new adventure will begin once this one come to a close.
Capricorn
Knight of Pentacles & Four of Pentacles
Two pentacles/coins: the Knight of Pentacles and Four of Pentacles. These cards tell us the certainty and dependability of a financial matter. Be honourable, ambitious, and thorough - and you will be led to financial security and wealth.
Aquarius
The combination of the Six of Wands and Queen of Wands tells us good news and recognition for a honest, hard working, and career-oriented person. Career is emphasized in this combination - so work hard, and ask for the reward and recognition you deserve!
Pisces
Emotional stability requires moderation. Together, the Ace of Pentacles and Temperance tells us that success comes from harmony and balance. It's important to spend some time on yourself. Your emotional stability and success depend on moderation and self-control.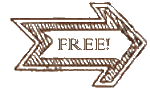 Free Tarot Reading