Tarot App
Download a brand new Tarot reading app on iPhone (iOS) and Android, and get instant access to accurate Tarot readings wherever you go!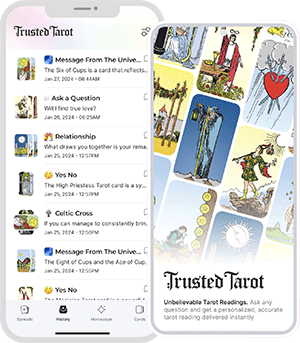 What is included in the Free Tarot App?
Daily Tarot Reading
Weekly Tarot Reading
Celtic Cross Reading
Tarot Card Meanings Library
Daily Horoscopes
Yes-No Reading
Money and Career Readings
Love Reading
And many more!
This Tarot app uses unique and beautiful borderless Tarot deck, inspired by original Tarot artwork from 1909! Tap into accurate guidance whenever you need it.
Free users on the app get a free daily reading, a free weekly Reading, a daily Celtic Cross reading, and a free premium reading every three days! Plus, we are constantly updating the app with new features.
You also get access to a Tarot card meaning library, and a daily horoscope!
See for yourself why this Tarot reading app is one of the highest rated in the world with, and carry free Tarot readings with you wherever you go.
Apps are taking off, and in 2023 most people have a smartphone. Are there benefits to using a Tarot reading app vs a website? I think so!
What makes a good Tarot reading app?
A good Tarot app needs to be accurate, and should be designed to be as close to a real psychic reading as possible. It should include many different readings on a variety of topics such as money, career, life, and love, and have different interpretations of each of the 78 Tarot cards in different positions in each spread. If you're doing a Celtic Cross reading, or a three card Past, Present, Future spread, the interpretations should change depending on which card is picked - and where it falls in the reading.
Another important factor is whether it includes interpretations of all the cards including Cups, Wands, Pentacles and Swords - or just the Major Arcana.
How does a free Tarot app compare to a live reading with a Psychic?
It's very hard to compete with an in person Psychic reading using physical Tarot cards. When you get a live reading, the Tarot reader can ask you questions, and personalize the reading based on your reactions.
On one hand that's good - a live reading is tailored to your situation. On the other hand, a Tarot reading in an App or website relies purely on the meaning of the cards... and one could argue that's it's actually more accurate, since the interpretations will not change based on your reactions to the reading.
Why should you download a Tarot app?
You can get a quick reading whenever you want
You don't need to memorize the Tarot card meanings
You can get a reading in places that an in-person reading would be challenging (like on an airplane or train)
You'll slowly start to learn the meaning of the cards over time
You can look up the card meanings whenever you need to, without having to carry around a book or search for the interpretation on line
You are able to get guidance on a many different topics, from love to money!
App readings are less intimidating than an in person reading
You can tap into your inner guide, and interpret the cards yourself (instead of relying on someone else!)